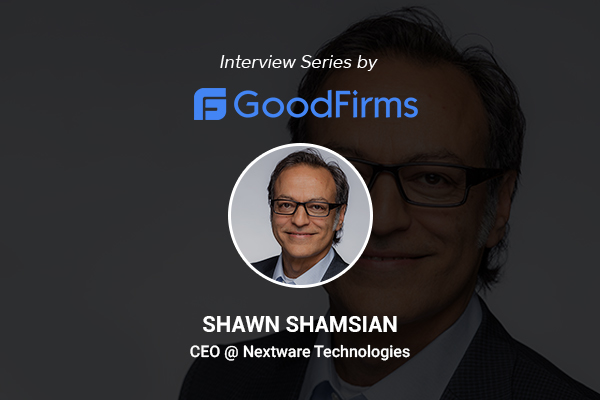 GoodFirms Recognizes Nextware for Excellence in Software Development
GoodFirms Recognizes Nextware for Excellence in Software Development
https://www.nextwaretech.com/wp-content/uploads/Nextware-Technologies.jpg
600
400
Nextware Technologies
Nextware Technologies
https://www.nextwaretech.com/wp-content/uploads/Nextware-Technologies.jpg
Nextware Technologies is a custom software development company based in the U.S., offering a full range of quality mobile applications and IT services to global clients. Nextware renders high-quality progress, IT, and business process assistance through its team consisting of technically experienced, innovative specialists. The team comes up with original and creative solutions to complex problems. Nextware strives to be the most dedicated and insightful partner possible – one that users can depend on to get the job done with 100% satisfaction. Nextware's professionals foster open and honest feedback that allows them to come up with unique and creative solutions.
View Nextware Technologies' GoodFirms' profile.
GoodFirms recently interviewed Shawn Shamsian, CEO of Nextware Technologies. Shawn shared an insider's perspective of the company with the GoodFirms interviewer, and discussed his responsibilities as the CEO of Nextware Technologies. Shawn's dedication to Nextware, and his appreciation for the entire Nextware team, come through in the interview; he states that "I'm very fortunate to be part of such a high caliber team and to be able to live my passion and deliver the highest quality of technology solutions to our clients." Moreover, he proudly mentions that software and product development have been his passion past 25 years. Shawn has pursued this passion over the past 25 years, both academically and professionally. Furthermore, the CEO also described the idea that inspired him to commence the business––he says that Nextware Technologies was founded to serve its clients with the most advanced solutions and products at the higher end of the complexity spectrum. From the beginning, Nextware has continued to offer its clients the highest caliber of products, designed to perfectly suit their unique needs.
Shawn shares that Nextware is fortunate to have a talented and dedicated team of expert hardware engineers, QA team, & project managers who support all aspects of product & software development.
Moreover, the CEO also discusses the most popular services sought by Nextware's clients. Nextware's skilled developers produce a wide range of mobile apps for clients worldwide. Whether it's only a startup business dealing with the iPhone app or an Android app, or maybe just optimizing an existing app, Nextware provides varied services. Furthermore, the company makes sure that the user gets a fluid and consistent experience with their mobile applications. The team pays great attention to detail, and works to choose the most proper mobile technologies for mobile applications.
Through its long-term commitment with clients, Nextware helps business people to improve their mobile application tactics over time, ensuring that clients return to thriving, helpful, spontaneous apps again and again. This exceptional dedication lands Nextware among the best app developers in Los Angeles listed at GoodFirms, and is affirmed in the review below.

Apart from this, Shawn also highlights the IT services provided by the professionals at Nextware. He added to the above statement that Nextware is a leading solution provider in customized business solutions for strategic business management. The products, services, solutions and reporting mechanisms support businesses, allowing them to adapt and boost their performance to the maximum. This is accomplished through robust metrics and scorecards that ensure optimum organizational functioning. Thus, by outsourcing the best IT provisions, Nextware Technologies has been dubbed as one of the top IT services companies in the United States at GoodFirms.
Having read the details about the company, one can also have a glance at the detailed interview at GoodFirms.
---
About GoodFirms
Washington, D.C. based GoodFirms is a maverick B2B research and reviews firm that aligns its efforts in finding the top mobile app development and IT services companies delivering unparalleled services to their clients. GoodFirms' extensive research process ranks the companies, boosts their online reputation and helps service seekers pick the right technology partner to meet their business needs.
About the Author

Anna Stark is presently working as a Content Writer with GoodFirms – Washington D.C. based B2B Research Company, which bridges the gap between service seekers and service providers. Anna's current role is to shape every company's performance and key attributes into words. She firmly believes in the magic of words and equips new strategies that work, writing content that helps to carve the firm's identity.