Leading Partner in North America
Nextware is the leading Adaxes implementation, integration and support specialist for Softerra Adaxes in North America. We provide services ranging from needs assessment, implementation, integration, custom development, training and ongoing maintenance and support of your Adaxes solution.
We can set you up with a 30-day free trial today!
How We Can Help
Nextware consultants specialized in the implementation of Adaxes can help you automate manual and time consuming processes such as on-boarding and off-boarding of users and movement of resources through integration with Human Resources, Facilities Management and other systems. Our system architects can help you achieve your objectives in terms of security and high availability, and our support staff can provide you with ongoing maintenance and support of your Adaxes solution.
Rule-Based Automation

Active Directory Web Interface

User & Password Self- Service

Exchange, Office 365 & Skype Management

Role-Based Delegation

Approval-based Workflows

Data Standards Enforcement

Logging, Reporting & Auditing

Scheduled Tasks

Enhanced AD Administration

Load Balancing and Fault Tolerance

Integrations & PowerShell Module
Architecture
Adaxes is a standalone software solution that acts as a proxy between users and Active Directory, Exchange and Office 365. Since native tools are still in place, you can come back to them at any point and have direct access to your environment the same way as before.
All the Adaxes magic, such as automation rules, approval-based workflows, role-based permissions, data standards enforcements, etc. is only applied when executing operations through Adaxes. Any of your existing scenarios or integrations, like HR or payroll systems, that directly interact with AD, Exchange or Office 365 won't be affected and can co-exist with Adaxes.
No Active Directory Pollution
Adaxes does not pollute your Active Directory in any way. It doesn't store any of its data in AD, doesn't change native permissions and doesn't extend the Active Directory schema.
Extensibility
Adaxes doesn't limit you to just what's provided out-of-the-box. It allows you to easily extend and customize its built-in functionality to exactly match the specific needs of your organization.
You can easily add your own scripts to automated workflows and actions or develop your own custom clients for Adaxes. For more details see the Adaxes SDK.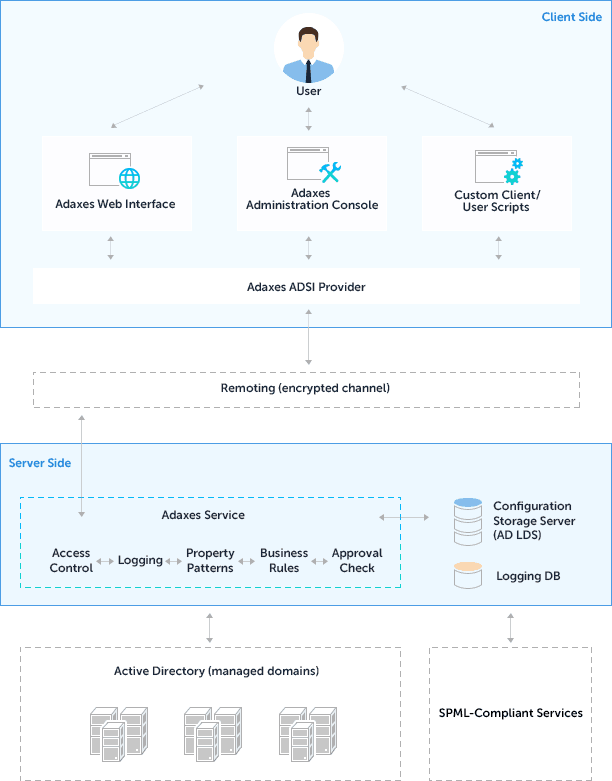 Load Balancing & Fault Tolerance
Adaxes allows you to set up multiple Adaxes services that share a common configuration. This enables more efficient load distribution and adds a redundancy layer. If one of the services goes down, users will be automatically redirected to the nearest service available.
Cross-Domain Administration
Adaxes allows you to manage multiple Active Directory domains even if they are located in different forests and have no trust relationships between them. As a result, all automation rules, access rights, scheduled tasks, approvals, etc. can be applied across all your environment in a unified manner.
All the actions that are performed through Adaxes are executed via service accounts with appropriate access rights in each of the managed domains.
Communication Encryption
With Adaxes there are no security compromises. All communications between Adaxes service and Adaxes clients (Administration Console, Web Interface, etc.) always use an encrypted TCP channel.
All security sensitive communications between the Adaxes service and Active Directory use LDAPS or Kerberos encryption. Other connected systems, such as Exchange, Office 365 and Skype for Business use encrypted channels at all times.
All security sensitive communications between Adaxes Web Interface and the user's web browser, such as passing credentials during login or resetting passwords, always use 1024-bit RSA encryption. They are secured even if HTTPS is not enabled.
Secure Public Access
To allow access to Adaxes Web Interface from outside your corporate network, you need to put the Web Interface in the DMZ. No other Adaxes components need to be exposed. The Web Interface also requires a Read-Only Domain Controller in the DMZ. Because the RODC doesn't store passwords and has only one-way replication and the Web Interface doesn't directly interact with Active Directory, any security risks are minimized.
To prevent possible attacks on your Active Directory through the Web Interface that's publicly exposed to the Internet, Adaxes provides a robust brute force protection mechanism.
Nextware Adaxes Case Studies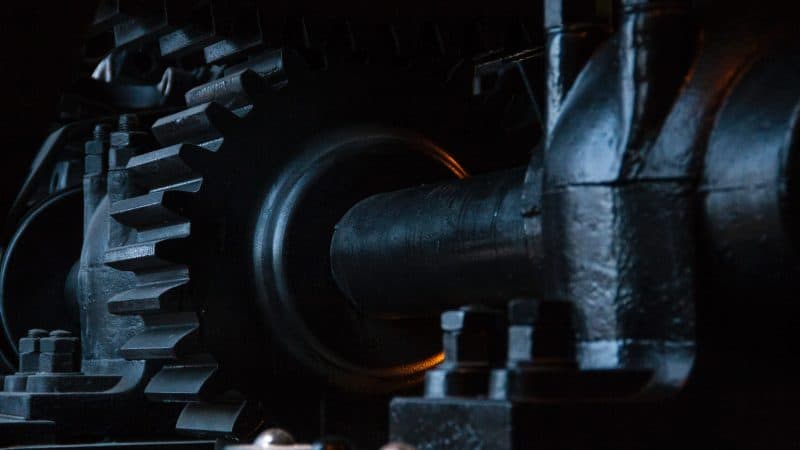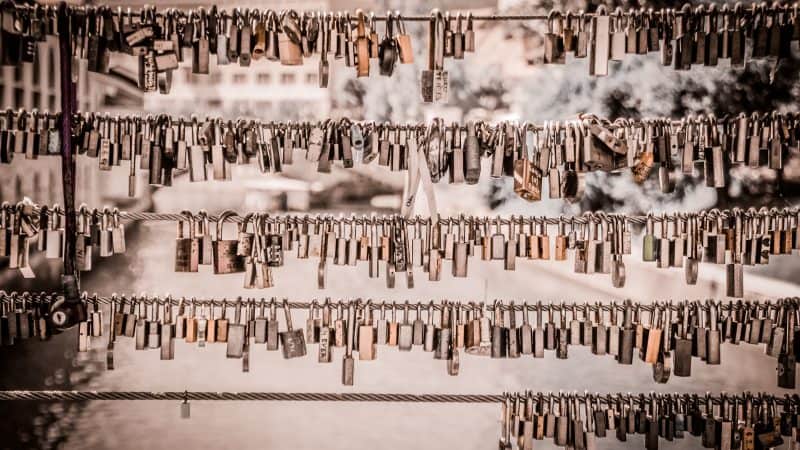 Adaxes PowerShell Script Workflows for Wake County
Adaxes PowerShell Script Workflows for Wake County
https://www.nextwaretech.com/wp-content/uploads/wake_county-1024x768.jpg
1024
768
Nextware Technologies
https://www.nextwaretech.com/wp-content/uploads/wake_county-1024x768.jpg