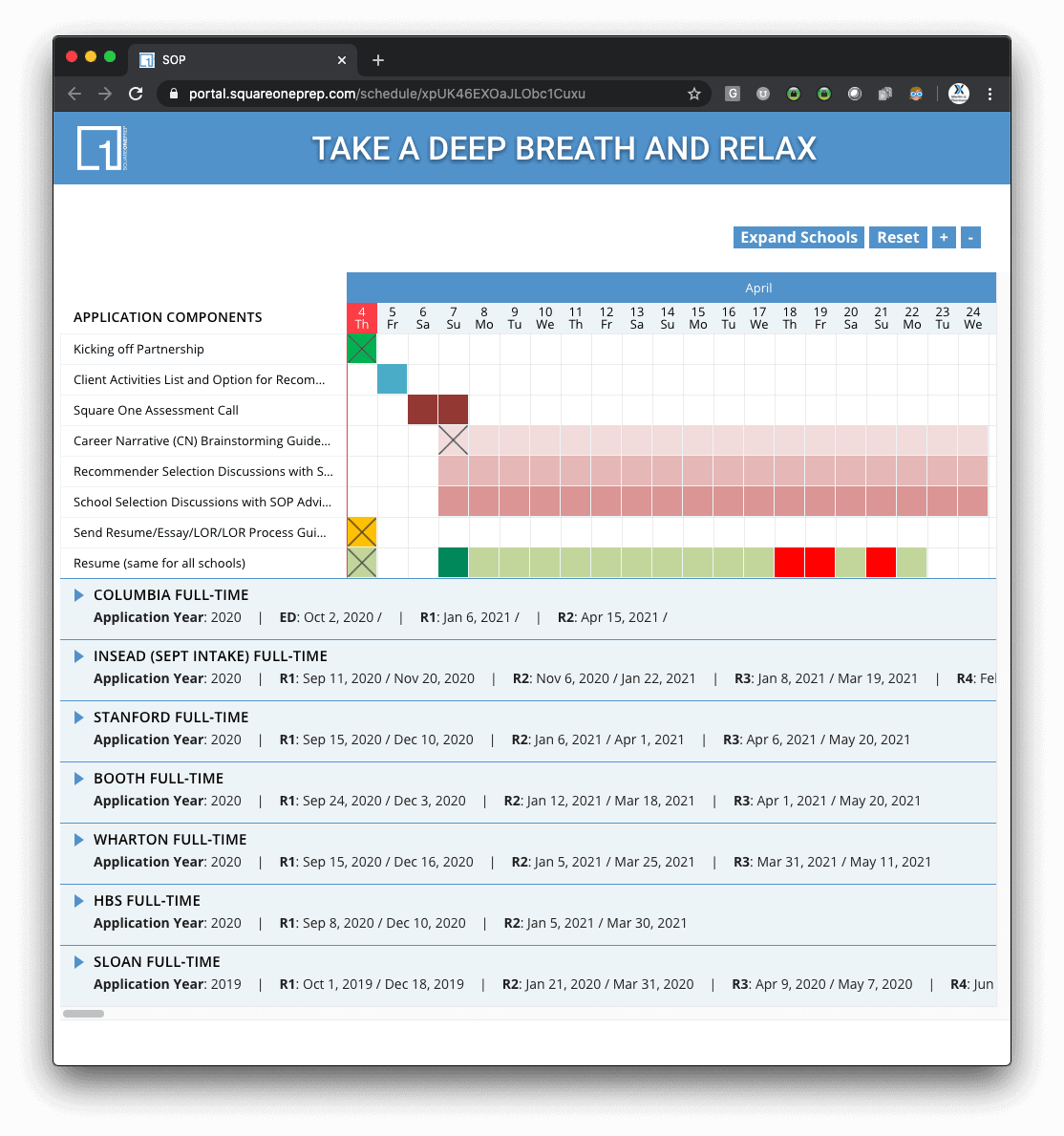 Ready to learn more how Nextware can help you implement your custom web solution? Give us a call at+1 (310) 955-9919 or send us an email!
Our client Square One Prep (SOP) needed a portal to manage all aspects of business externally with clients and internally with staff.
Requirements
Smart planning system to automatically generate detailed and customized activity plans for clients based on the schools they are applying for, which application round they choose, and how fast they plan to move through the application process
Smart schedule should know about individual school requirements on the type and number of essays, recommenders, deadlines, etc. and incorporate all this information in the custom schedules generated
Smart schedule should have an easy interface allowing the staff to edit all aspects of an active schedule as needed and perform "what if" scenarios such as changing the order of schools to apply to in the application process. The automated scheduler will then automatically reschedule all dependent activities based on the new order of schools defined
System should also track the activities at each step and keep an up-to-date status of all activities. In other words, the system is used both for planning and execution of the plan
System provides clients with an interactive schedule as a single source to track their application process, look at what tasks they need to work on and easily find all resources they need to help them accomplish those tasks
System supports all communications, document sharing, and meeting scheduling between clients and staff and keeps log of all communications and meetings
Automated notifications remind clients and staff of important deadlines and milestones
System provides an integrated document repository that allows users access to material based on their role in the system, schools, or clients they are involved with
System keeps track of all invoices and payments both on the client side and the staff side
System provides various reporting tools to help track advisor activities, measure client results, find school information, gather client information, etc.
Business Challenges
Creating customized application plans for individual clients based on the specific requirements of that client is a time-consuming task. Even more time consuming is the ongoing process of maintaining plans up to date, every day, based on activities or lack of activities during that day. SOP wanted to develop a state-of-the-art system to automate this whole process and as a result:
Create a truly differentiating offering to their clients that is matched by no other company in their field
Eliminate the manual work of generating and maintaining customized schedules in order to make the organization efficient and scalable to support business growth objectives
Solution Challenges
Solution had to take into account all complexities related to a custom schedule with different precedence rules, task durations, and varying requirements per school, but at the same time make the scheduling engine fast enough so that the schedule can be quickly edited and modified in an interactive session

The solution had to be designed such that clients could find all resources, instructions, sample documents related to each task with only one or two clicks
Objective
To build a powerful portal to support and guide clients (and internal staff) throughout the entire client engagement life cycle, and as a result develop a truly differentiating offering in the market unique to SOP.
What Our Client Says
Nextware was the perfect partner for us in creating a one-of-a-kind portal for our company. They took the time to understand our business and what our needs were in a software system so they could provide us with the best product for our staff and customers. The end product has exceeded our own expectations and has streamlined our business activities while still providing our customers with a high-level personal touch. We wouldn't have been able to do this without Nextware! They have an amazing team, excellent project management, and most importantly they really care about their clients. We are thankful to have partnered with Nextware!
Bailey Miller
Chief of Staff at SOP